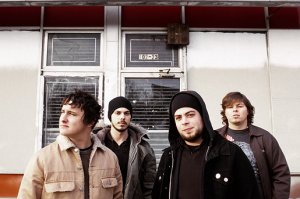 As speculated for several months, New Jersey/Philadelphia's None More Black have apparently decided to do the only thing worse than "break-up", the dreaded "indefinate hiatus".
A spokesperson from the band's label, Fat Wreck Chords, informed Punknews.org that the band may decide to play shows now and again, but for the most part are to be considered "inactive". Last year, the group released their sophmore LP for Fat Wreck Chords, This is Satire. Our music review editor, Brian Shultz, also caught their last performance at the 2006 Fat Wreck Chords CMJ Showcase.
The group started as a project for frontman Jason Shevchuk, shortly after leaving his prior band, Kid Dynamite. After a few years of unstable lineups, the band finally solidified as a cohesive four-piece, including Paul Delaney (Kill Your Idols), Jarrod Alexander (the Hope Conspiracy) and long-time friend Colin McGinniss. Rumors began to circulate at the end of 2006 about the band's demise as quotes from the final episode of Seinfeld (which also provided some of their first album's song titles) appeared on their website. Jason has since gone on to start a new solo project, titled OnGuard. No specific reason has been provided for the group's split.