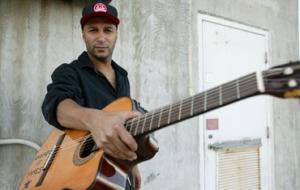 Tom Morello, activist, producer, and former Rage Against The Machine member recently discussed some details about his upcoming album as The Nightwatchman.
The project will release One Man Revolution on April 27, 2007 and was formed in 2003, when Morello was struck by a desire to return to political activism after over a year of playing non-political rock in Audioslave. Morello first toured in his solo configuration back in 2003, joining legendary political/folk act Billy Bragg for the Tell Us the Truth tour.
Many of the songs follow in the tradition of influential political/folk acts, with Morello aiming to provide a statement of solidarity with other activists on the front lines.
The first song from the album is available via this myspace page.
The Los Angeles Times recently described the song:

The song's lyrics, forged in an almost Biblical allegory of revolution, commitment and revenge, may bear a certain resemblance to Johnny Cash's more defiant moments, but the delivery is pure Leonard Cohen, all sawdust and mud in the larynx