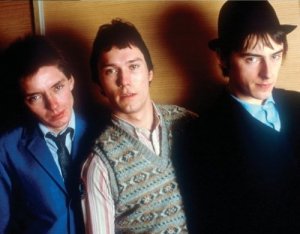 Two-thirds of influential mod rock group the Jam have decided to reunite. Calling themselves "From the Jam: Bruce Foxton and Rick Buckler" the band's original bassist and drummer will be touring with new recruits in the form of singer / guitarist Russell Hastings and guitarist / keyboardist Dave Moore.
Notably absent is perhaps the group's most prominent member: singer and guitarist Paul Weller, who ruled out a Jam reunion starring himself two years ago. According to Billboard, Weller was not even approached by the twosome, with Foxton stating:

I haven't got a contact number for Paul, but even if I did, I don't think he'd be interested, given what he's supposedly said in the press, but it would be nice to get his blessing, though.
In speaking with NME Buckler both left the door open for Weller, but also also confirmed that new material is in the works:

Paul Weller has a fantastic solo careers and is one of the UK's most talented songwriters. Paul is always welcome to join us for the reunions, but until then, we've got a new tour and a new album to do.
The reunion is slated to begin on May 2nd, the 30th anniversary of the band's groundbreaking album In The City. Their set list is expected to include classic Jam songs as well as some rarely heard tracks and covers.