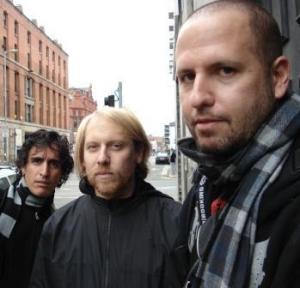 108 have wrapped up work on the first album for Deathwish Inc.. The influential and long-running hardcore/metal act broke up in 1996 after releasing several EPs and full-lengths but decided to reform for good in August 2005.
The band spent the past eight days at Godcity Studios with Converge's Kurt Ballou (Cave In, the Hope Conspiracy, Isis). 108 announced completion this evening, saying:

The last week has been insane. After a few months of writing and sending songs to one another across the US we finally got into the studio to record our first record for Deathwish Inc. with Kurt Ballou (Converge) at Godcity Studios. As I type this we have officially completed the recording and mixing of 13 new songs which will appear on the LP which is aptly titled A new beat from a dead heart. The LP is scheduled to come out at the end of June in time for some dates around the US as well as a three week trip to Europe to celebrate the release of the new LP.
A New Beat from a Dead Heart fis the group's first new studio full length since 1996. In the interim, Equal Vision released the band's discography, Creation. Sustenance. Destruction. and the band followed it up several months later with a self-released, limited edition EP entitled Oneoeight containing seven new songs, one old demo and covers of Black Flag and Bad Brains.
At their inception 108 featured former members of Resurrection and Inside Out. Incoming and outgoing members would go on to form/reform Texas Is the Reason and Burn. The band's current incarnation includes Robert "Rasaraja" Fish on lead vocals, Vic DiCara on guitar/vocals, Trivikrama Dasa on bass and Tom Hogan on drums.