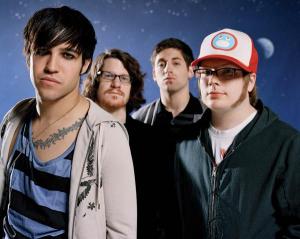 If last week's story that Fall Out Boy had borrowed lyrics from abrasive hardcore act Give Up The Ghost wasn't enough, the latest news is that the band will be giving away posters containing the band's actual blood.
The band's unofficial spokesman Pete Wentz explained:

One [upcoming project] is an ode to KISS. My brother is ging to make 45 prints based on images from our record. Each will be hand numbered and individually made. In addition, all prints will have a mixture of each member of the bands blood in it. Maybe this will even shed some light on the much needed support for blood drives. We will be giving away a print on stage every night. check back in here for more details soon.
As for the KISS reference, comic nerds over 40 years old (or those with access to access to Wikipedia) will tell you that in 1977, an official KISS-sanctioned comic book produced by Marvel comics was likewise printed in the band's blood.
Fall Out Boy continues to do strange and inexplicable things in support of their new album Infinity on High.