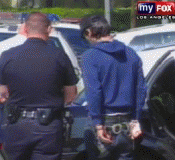 Tony Lovato, the frontman for defunct mainstream pop-punk act Mest, was jailed on suspicion of murder in Los Angeles on Sunday. Reuters is reporting that the 26 year old confessed to police that he stabbed his ex-girlfriend's new lover. He is now being held on $1 million dollar bail.
The preliminary news reports claim that Lovato was assaulted earlier in the day by 25 year old Wayne Hughes in the underground parking lot of an apartment building the Studio City suburb. Lt. Andrew Neiman of the Los Angeles Police Dept commented "At some point, Mr. Lovato produced a knife and the victim was stabbed… He has been booked for criminal homicide." Police had visited the complex the night before due to an altercation between the two men but no arrests were made at that time.
Mest last released Photographs in 2005 via Madonna's Maverick Records. The band, founded in Blue Island, Illinois in 1995, split up last year.