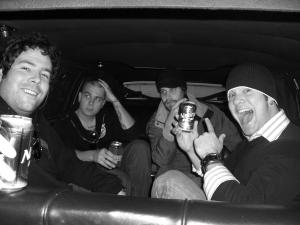 In the current "here today, gone tomorrow" world of punk music, 100 shows is definitely something to celebrate. And what better way to celebrate than to give away your debut full-length for free? Punknews.org has teamed up with our new friends over at Record Theory to bring you the download of Charlottesville, VA's the Stabones' Record Theory debut, Liver Let Die, which was described as "Mid-Atlantic drunken fun-as-shit rock".
Download the Stabones' Liver Let Die
Additionally, the band is currently on the road, playing their 100th show last night. They'll be hitting the Blacksburg, VA/ Virginia Tech area tonight, followed by Johnson City, TN tomorrow. Back at their homebase of Charlotteville next month, the band will play with ska legends the Pietasters on April 22.