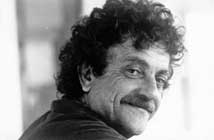 Kurt Vonnegut has passed away at the age of 84. According to a New York Times report, Mr.Vonnegut suffered brain injuries as a result of a fall several weeks ago.
He was born in 1922 and published his first novel in 1950. He was best known for his darkly humorous and deeply moral novels which melded science fiction themes and satire to communicate and explore ideas about the human condition.
His classic books included Slaughterhouse-Five and Breakfast of Champions and his short stories included notable dystopian fiction like Harrison Bergeron. Not just a writer, Vonnegut fought in World War II, and his experiences there shaped his many war themed novels, like Slaughterhouse Five in which he chronicled his experiences during the firebombing of Dresden.
His final published book was 2006's A Man Without a Country.
Our deepest condolences to his family, friends and all those who were touched by his incredible talent.