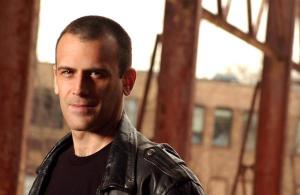 Ben Weasel has revealed some more details about his upcoming sophomore solo album, These Ones Are Bitter. The record is due out June 26, 2007 and is his first solo outing since 2002's Fidatevi.
As reported, the disc will be released via Ben's own digital-only Mendota and will be available via digital download from iTunes, eMusic, Rhapsody, downloadpunk.com, Napster, and many other digital retailers. That said, the site notes that a limited edition vinyl version of the album will be released later in 2007 on Edmond Records. (We all know how Ben feels about CDs.)
For the record, Weasel has recruited bassist Dan Andriano of Alkaline Trio as well as two members of he All-American Rejects: Mike Kennerty and Chris Gaylor. Kennerty also acted as producer.
Let Freedom Ring
In A Few Days
Got My Number
Happy Saturday
Sour All Over
The First Day Of Spring
Blue Is The Ocean
Affected By You
Jeanette
Addition By Subtraction
Give It Time
Summer's Always Gone Too Soon
In A Bad Place
Only In November