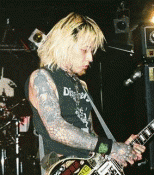 Kawakami, the long-time vocalist and guitarist for the Japanese band Disclose, has died from an unintentional overdose. According to reports, the singer died from a lethal combination of sleeping pills and vodka.
Kawakami was the mainstay in the band's revolving lineup. Disclose's sound, based on the infamous Discharge, was legendary within Japan's hardcore punk scene. Their numerous releases (14 split 7"s, one split LP, two LPs, and ten 7"s and 10"s) over the past 15 years and heavily distorted, blown out noisy style influenced hundreds of other bands, much like Discharge did in the 1980s.
Our deepest condolences to his friends and family.
A fan has provided a link to a YouTube of a recent performance.