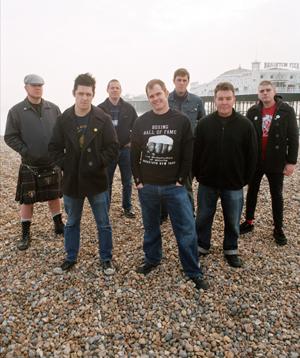 The Dropkick Murphys have announced the details about their follow up to 2005's The Warrior's Code.
The record is their 6th studio full length and is titled The Meanest of Times. The record features guest appearances by Spider Stacey of the Pogues and Ronnie Drew of the Dubliners. It was recorded at The Outpost in Stoughton, MA and produced by the Dropkick Murphys. The guest vocals were recorded at Westland Studios in Dublin by Dave Slevin.
The record is due out September 18, 2007 on the band's own label Born & Bred Records, in association with Warner Music Group's Independent Label Group. The ILG is comprised of Asylum Records, East West Records and Cordless Recordings, it also owns a stake in Ferrett Records and maintains a partnership Minneapolis-based hip-hop label Rhymesayers. This will be the band's first major release without longtime label Hellcat Records.
As previously reported the band will hit the road for a slate of US tour dates in August.