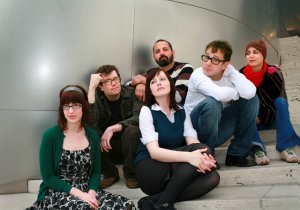 Recently reunited alternative/punk/new wave outfit, The Rentals have released their new EP a little early in digital formats. Originally due on August 14th the new EP is available now through iTunes. It is titled The Last Little Life.
The revitalized band includes original members Matt Sharp (ex-Weezer,) Rachel Haden (That Dog) along with new members Sara Radle (vocals/multi-inst), Ben Pringle (synth master), Lauren Chipman (viola/vocals) and Dan Joeright (drums).
A band that is often credited for opening the door for synth-punk bands like Motion City Soundtrack and Reggie and the Full Effect, The Rentals have remained dormant since shortly after their 1999 release, Seven More Minutes. At various times, it has featured members of The Decemberists, Weezer, The Special Goodness, and Saturday Night Live cast member, Maya Rudolph.
You can preview some of the songs or buy them right here.
The band is currently in the midst of a national tour.