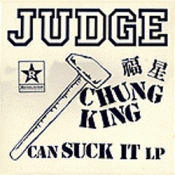 You're the lucky reader of the third edition of the Punknews.org Vinyl File. This column aims to keep you informed with upcoming releases as well as spotlighting interesting releases, your favorite band's own collections and labels with an history of vinyl releases worth talking about. As always, Vinyl File is brought to you by Ben Conoley.
This week's Vinyl File Spotlight features Judge's rare and sought after Chung King Can Suck It 12". Also below you'll find a list of some great upcoming vinyl releases from bands like Coalesce, Isis, Mono and Pelican, Tigershark, Say Anything and more.
Click Read More for the full article.
VINYL FILE SPOTLIGHT
One of the most sought after (and incidentally expensive) releases in American hardcore is Judge's Chung King Can Suck It 12".
Judge emerged from New York in 1987 and featured both John Porcelly and Mike Judge, both of Youth of Today. The confrontational straight-edge band released their first 7", New York Crew in 1988, but it's the follow-up to it, Chung King Can Suck It that we're interested in.