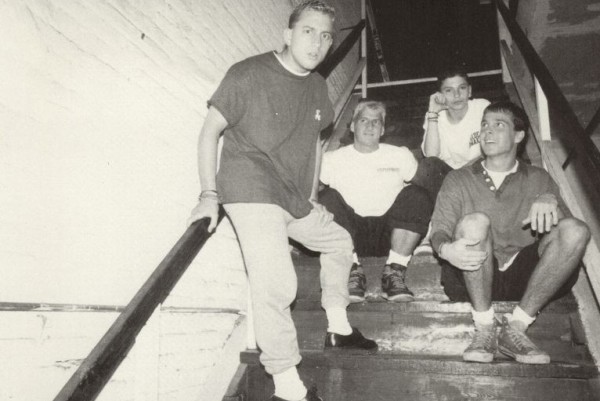 Youth Of Today was formed in 1985 by two members of the New York hardcore band Violent Children – Ray Cappo (vocals) and John Porcelly (guitar), aiming to start a straight edge band at a time when most old school straight edge bands had disbanded. Having difficulty finding a bassist and drummer, Ray and John found help from two high school friends, Graham Philips and Darren Pesce.

In 1985, Youth Of Today recorded their debut EP for Positive Force Records, Can't Close My Eyes. After touring for a while both Graham and Darren left the band, and two members of New York band Straight Ahead joined Ray and John, Craig Setari (bass) and Tom Carroll (drums). Tom left during their second tour, and Drew Thomas, drummer of brotherband Crippled Youth, was asked to finish the rest of the tour. A short while later, Underdog vocalist Richie Birkenhead joined the band on second guitar. With this line–up, the first Youth Of Today album was recorded, entitled Break Down The Walls, and released by Wishing Well Records, the label of California straight edge bands Unity and Uniform Choice.

Soon after recording the album Drew was replaced by Mike "Judge" of Death Before Dishonor and Supertouch. Craig left to reform Straight Ahead, and Walter Schreifels of Gorilla Biscuits joined on as the new bassist. At the end of the Break Down The Walls tour that followed the release of the LP, second guitarist Richie left the band, and with that line–up Youth Of Today appeared with two songs on the Revelation Records sampler "New York Hardcore – The Way It Is", alongside New York bands like Bold, Gorilla Biscuits, Side By Side and Sick of it All. At the end of 1987 Mike left the band, and Sammy Siegler (ex–Side By Side) became the new drummer. In 1988 Youth Of Today recorded their classic second LP "We're Not In This Alone", which was released in America by Caroline Records and in Europe by Funhouse Records. The beginning of the next year, Youth Of Today, whose line–up was steady at last did a European tour, playing shows in Sweden, Norway, Denmark, Germany, Switzerland, Austria, Italy, France, Belgium, the Netherlands and England.

In 1990 Youth Of Today decided to quit and recorded 4 songs for a farewell 7" on Revelation Records. Three of those songs appeared on the single "Disengage". Ray Of Today started the Hare Krishna band Shelter, and was later joined by Porcell. Walter was playing guitar in Gorilla Biscuits from 1987 on, and was joined on the European tour of Gorilla Biscuits in 1990 by Porcell and Sammy on guitar and drums. After split of Gorilla Biscuits, Walter started Quicksand. Sammy later played drums in CIV.

When Youth Of Today split, it seemed the beginning of the end for the second Straight Edge wave, which has begun in 1985, and which was at its height in 1988–1989. Together with bands like Uniform Choice, Unity, Insted, No For An Answer and Gorilla Biscuits, Youth Of Today were an inspiration for hundreds of bands all over the world, who combined the message of Positive Thinking and Straight Edge with energetic and fast hardcore. Aside from show single reunion shows Youth Of Today did a european reunion tour in 2004 with original members Ray, Porcell, Sammy. Ray's friend Ken Olden from Battery and Better Than A Thousand filled in on bass.