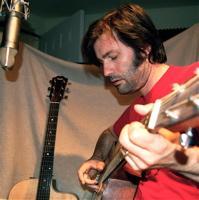 Virgil and his band of troublemakers at Suburban Home will be releasing the debut album from the Playing Favorites. Formerly known as Dead Penguin, the band is the newest project from Joey Cape and features four of his closest friends. He's been trickling out samples of the new music in the past few months.
The as-yet-untitled album will be mixed by Jason Livermore at the Blasting Room and is hoped to be released before the end of the year. Joey is also releasing an acoustic album via Bad Taste Records in Sweden.
Of course, fans know Cape from the nigh-seminal punk outfit Lagwagon as well as the more experimental Bad Astronaut, who released their final album this past year.