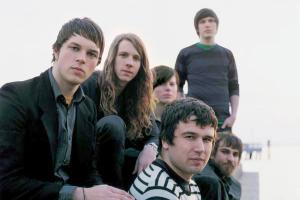 Say Anything has the track listing and artwork for their next full length. It will be titled In Defense of the Genre and is due out October 23, 2007.
The first single from the album is "Baby Girl, I'm a Blur." The record was produced and mixed by Brad Wood (Smashing Pumpkins, Liz Phair, mewithoutYou); according to the release, it is a double disc concept album.
The band enlisted a wide variety of guest musicians for the undertaking including members of My Chemical Romance, Dashboard Confessional, Alkaline Trio, Saves The Day and Rainer Maria.
Disc One:
Skinny, Mean Man
No Soul
That Is Why
Surgically Removing the Tracking Device
This Is Fucking Ecstasy
The Church Channel
Shiksa (Girlfriend)
Baby Girl, I'm a Blur
Retarded In Love
People Like You Are Why People Like Me Exist
Died a Jew
An Insult to the Dead
Sorry, Dudes. My Bad.
Disc Two:
Spay Me
In Defense of the Genre
The Truth Is, You Should Lie With Me
The Word You Wield
Vexed
About Falling
You're the Wanker If Anyone Is
Spores
We Killed It
Have at Thee!
Hangover Song
Goodbye Young Tutor, You've Now Outgrown Me
I Used to Have a Heart
Plea