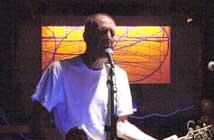 Paul Fox, best known as the guitarist of influential reggae punks, The Ruts, has passed away at 56 following a battle with lung cancer. Just this past summer, Fox performed with the surviving members of the Ruts and fronted by Henry Rollins.
Formed in the late 70s, the Ruts were among the first wave of British punk bands, taking influence from reggae and punk rock and being active in the early anti–racist movement. Though the Ruts were no longer performing, Paul remained active in music, performing with the Dubcats.
Our condolences to Paul's friends, family and fans.