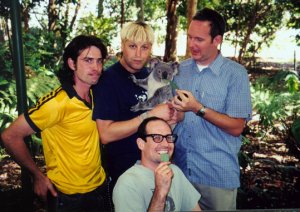 Nerf Herder has posted two new songs from their upcoming new album. The band had been on an extended break until recently. The new record is titled IV and is due out early next year.
You can check out "Golfshirt, Part II" and "Led Zeppelin Rules" on their myspace page.
The band has also posted a new single on iTunes featuring "Led Zeppelin Rules" and b–side "The Backpack Song" and you can purchase or stream the songs from iTunes.
The band released their last full length, American Cheese, in 2002. It was followed with a reissue of their 2000 EP My EP.