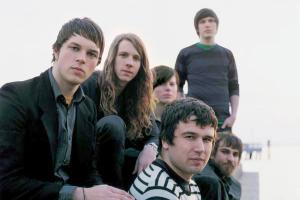 Say Anything have been a busy group of young men as of late. They've just released their third full–length, In Defense of the Genre, and recently re–released their breakthrough album, …Is a Real Boy. Punknews.org's own Ronnie Raffaniello recently had a chance to talk to Say Anything drummer Coby Linder about everything the band has been up to as of late.
Please state your name and role in the band.
Coby Linder and I play the drums.
In late October you released a double disc album titled In Defense of the Genere. How would you describe the music and lyrics from this album to someone who has never heard your music before?
I always like to describe us as Foo Fighters meets Queen. We have the really hard rocking side to us and the acoustic side to us. Then you take those elements and you make it theatrical. That's what I've always loved about our band and on In Defense I feel like the song writing was taking those elements but bringing them up a notch and forming a story with the lyrics.
What was the recording process like for In Defense of the Genre ? Super smooth. Our producer Brad Wood is pretty much a genius and had the best suggestions for us as well as giving us so much creative control. We had about two weeks of pre-production in NYC with him there listening to us play all the songs over and over. We had like 23 or 24 songs at that time so it was a lot, but he handled it really well. Recording it was awesome because we got to use a big studio in New York for the drums and some guitars and then we moved it out to LA to track the rest in Brad's home studio which was such a chill and relaxing in environment. All in all I say it was the easiest and smoothest recording process we've ever had as a band.
Why did the band decide to have so many guest vocalists (Matt Skiba of Alkaline Trio, Adam Lazzara of Taking Back Sunday, Anthony Green of Circa Survive, and many more), and how did you choose who was going to be a part of it?
We basically just really like all those artists and their bands and we thought it would be cool to have everyone we've met from playing shows with them come out and sing certain parts of certain songs that more or less relate to their own projects. I know Gerard Way's part is one of my favorites on the record because it is such a part he would sing for MCR that it feels like he's just bringing himself into it and not just singing what was written for him. And they were all nice enough to agree to do it too which was the amazing part. It really is a blessing to be able to hear them sing on our record when I listen to it.
When Max sings the line "I have a girlfriend now" in "Shiksa", it sounds a lot like Reel Big Fish's song "She Has a Girlfriend Now." Knowing that other tracks on the album have a portion of the composition from other songs, was this song at all influenced by Reel Big Fish?
I can't say it was. It was more of just coincidence, but we do love Reel Big Fish and Aaron is a good friend of mine, but we could never do them justice for that song. Epic work my man, epic work.
Your second full-length album …Is a Real Boy was originally released in 2004 through Doghouse Records, but was reissued with a seven-song bonus disc titled …Was a Real Boy by J Records in early 2006. What was the theory behind re-releasing the album on J Records with the bonus disc?
Originally those seven songs were just demos we did in our friends garage where we used to practice. We had done is a real boy and we had those songs written for an EP we were going to put out called Vs. AIDS. Then the record got picked up, so we had these extra songs to either add on or just scrap. But we didn't want the rerelease to be the same record with like new packaging or anything boring like that, so we decided to remix the songs, tweak them a little and throw them onto another disc, just to give our fans something extra if they were going to purchase it again.
Just recently you won [and broke] the Best Video mtvU Woodie for "Wow, I can Get Sexual Too. What was running through your head as your name was announced?
I was wasted. So, probably the thought of chicken fingers and french fries. But we were placed in a spot of the room where we were really close to the stage and I think only one of the other nominees for the award were there. So going into it we thought we had a chance, I guess. Then they started announcing the nominees and all of the cameras turned to us, so I was just like, "holy shit, we're going to win this shit!!' and we did. It was a fun experience. It was our first awards ceremony of any kind so we were pretty oblivious to anything going around us, but it was fun. And we did break it, but they sent us a brand new one which I have perched on my fireplace.
How did Say Anything become involved with the first MySpace Music Tour, and what has been the best part of the tour?
I think Tom from MySpace was a big fan. He would always support us and put us on his favorite bands on his profile. Hello Goodbye needed a band big enough to co-headline with and we knew them from before when Forrest did our demos for …Is A Real Boy, so it just worked out. It was a fun tour and the dudes in Hello Goodbye are nice grown ass men. It was our first time really going to the UK for more than a week so experiencing that as a band playing shows was so unbelievable. I spent more money on clothes there than ever before. I had to get an extra suitcase for the flight home.
Do you plan on doing another tour for In Defense of the Genre, or are the fans who missed the MySpace Music Tour going to have to wait until the next time around?
No no, we're definitley touring off this record, hopefully for the rest of the year. We're going to Canada with Thrice in February and then we're doing a headlining tour In March and April for In Defense… so we will definitely be playing a lot of new songs on that tour. All of the dates are up on our myspace and website if you wanna come see us! It's gonna be a hoot diggy!
If you could only listen to five albums for the rest of your life, which albums would you choose?
Okay….such a fucking tough question. People who know me and read this might laugh because I have guilty pleasures up the wazzooo..but if was really stuck with five albums for the rest of my life, it would be these :
Saves the Day- Stay What You Are
Beatles- Hard Days Night
Recover - Ceci n est pas Recover
Green Day - Dookie
Weezer - Blue Album Is there anything that you would like to say to your fans?
Thank you and bring us chicken salads, because we're healthy now!!