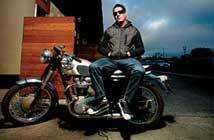 Mike Conley, former vocalist of Orange County punk band MIA was found dead yesterday in Chicago. According to the news report, Mike was found unresponsive at 5:40 a.m. by a person staying in the hotel in the 2300 block of North Mannheim Road, sheriff's police spokeswoman Penny Mateck said. He appeared to have suffered head injuries.
All Music Guide called M.I.A. "one of the 50 best So–Cal punk bands of the great early–'80s second wave explosion."
Our condolences to Mike's friends and family.