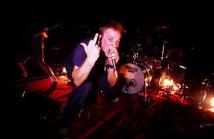 Deathwish has signed Seattle/London–based Narrows. The band features some rather notable players: vocalist Dave Verellen (ex–Botch/Roy), bassist Rob Moran (Unbroken / Some Girls / Over My Dead Body), guitarist Ryan Frederiksen (These Arms Are Snakes), guitarist Jodie Cox (Tropics / Bullet Union) and drummer Sam Stothers (Makeout Boys / Quarantine).
The band will release their debut 7" EP "very soon," with a full–length to follow later this year.
An MP3 clip of a song from the EP is available here: "Life Vests Float, Kids Don't."