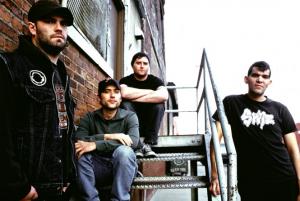 Anchorless Records has finalized the track listing for their forthcoming Johnny Cash tribute album. All Aboard: A Tribute to Johnny Cash; To Benefit the Syrentha Savio Endowment will feature contributions from the likes of The Bouncing Souls, Chuck Ragan, Gaslight Anthem, Smoke or Fire and more.
The album will be released on both CD and vinyl with the later version featuring a bonus Ben Nichols track. The liner notes are also set to include quotes from each band or artist about Johnny Cash and his impact on their lives.
SSE is a registered non–profit providing assistance to underprivileged women with the costs associated with breast cancer treatment. They are best known 'round these parts for their Shirts for a Cure campaign. The liner notes will include quotes from each band/artist about Johnny Cash, and his impact on their lives and musical careers.
The Bouncing Souls- Man in Black"
Chuck Ragan(Hot Water Music) feat Jon Gaunt - "Wreck of the Old 97'"
The Gaslight Anthem - "God's Gonna Cut You Down"
Ben Nichols(Lucero) - "Delia's Gone"
The Dresden Dolls - "Ballad of a Teenage Queen"
The Loved Ones - "Cocaine Blues"
OnGuard(Jason Shevchuk; None More Black, Kid Dynamite) - "Give My Love To Rose"
Casey Prestwood(Hot Rod Circuit) - "I Still Miss Someone"
Smoke or Fire - "Let the Train Whistle Blow"
Russ Rankin(Good Riddance, Only Crime) - "Walk the Line"
Fallen From the Sky - "Country Boy"
The Flatliners - "Cry Cry Cry"
The Sainte Catherines - "There You Go"
Chon Travis (Love=Death) - "Folsom Prison Blues"