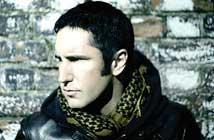 Nine Inch Nails have released a brand new full length, this one is non–instrumental and have opted to make the entire album available for free. Band mastermind Trent Reznor noted:

Thank you for your continued and loyal support over the years – this one's on me.
Since parting with his major label last year, Reznor has been incredibly prolific, releasing music with Saul Williams, a four–CD instrumental album and now, The Slip. Along with the output, Trent has been experimenting with distribution methods and has been the first artist to embrace full quality distribution of music in FLAC (CD–quality) format.
Besides just making the album available, Trent has posted torrent files for the higher quality versions of the album and is almost definitely the first major artist to launch his own BitTorrent tracker.
The model was first popularized by Radiohead, but other major artists like Green Day have taken similar approaches like with their Foxboro Hot Tubs album.