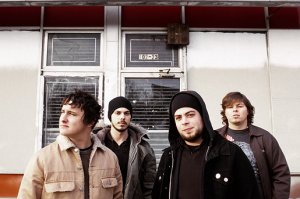 Philadelphia, PA's None More Black have announced their first show since 2006. The band had this to say:

"On July 4th 2008 we will be coming out of hibernation. Please come make some sweet sweat with us in Old City Philadelphia at Deep Sleep to celebrate the photo exhibition of Jaime Avon. The show is FREE. Space is limited. NO OPENERS. Make sure to check out Crucial Headache presented by Perry Shall at Deep Sleep on June 6th to get some vouchers for NMB goodies. We are hoping to have the Vinyl for This Is Satire ready for this show. What does this mean? It means we are playing again."
Put that sandwich back in the fridge. The band announced their indefinite hiatus status in early 2007. Unlike Fugazi, the guys in None More Black were bitten by the Police/Van Halen/Led Zeppelin reformation bug and have scheduled a singular performance date. The group last released This Is Satire in 2006 via Fat Wreck Chords.