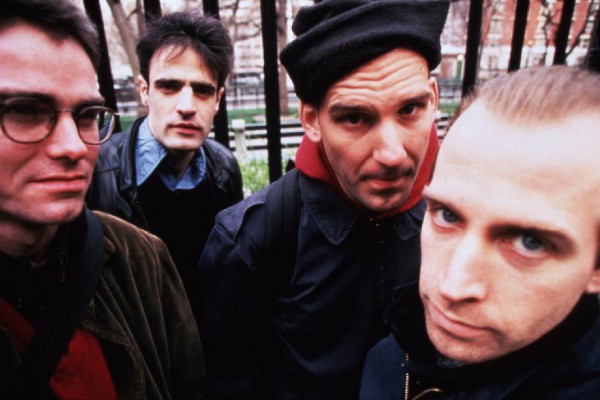 After the seminal hardcore punk group Minor Threat dissolved, Ian MacKaye (vocals and guitar) was active with a few mostly short–lived groups, (notably early emo–core band Embrace) before forming a new trio, Fugazi, with drummer Colin Spears (of Dag Nasty) and bass guitarist Joe Lally. Spears eventually left to form Dag Nasty and was replaced by Brendan Canty of Rites of Spring.

They performed briefly as a trio, then added Guy Picciotto, earlier Canty's bandmate in Rites of Spring, Happy Go Licky, and One Last Wish. Picciotto originally only sang. He likened his role for the first two years to that of a toaster, but quickly incorporated his guitar playing into the quartet.

Fugazi blend elements of punk rock, hardcore soul and noise with an inventively syncopated rhythm section often steeped in dub or reggae influence. Notable is MacKaye and Picciotto's inventive, interlocking guitar playing, which often defies the traditional notion of "lead" and "rhythm" guitars. They often feature unusual and dissonant chords and progressions, sometimes reminiscent of the Tom Verlaine/Richard Lloyd pairing from Television, though filtered through a hardcore punk lens. Most of their albums have featured an instrumental song or two.

Generally, MacKaye's lyrics and singing are more direct and anthemic (MacKaye admits that he loves audience sing–alongs and writes songs with shoutable slogans), while Picciotto usually favors a more abstract, oblique approach. Lally has contributed vocals to a few songs as well. Lyrics and vocals often feature strong emotional intensity. This style has led many critics to call their music post–hardcore and emocore, as it is seen as a progression of and a reaction to the hardcore punk movement.

Fugazi's unusual experimental sound influenced some later punk music groups, and has proven difficult to categorize neatly; they've been classified as post punk and post–hardcore. Though clearly rooted in punk and hardcore, there is arguably much more than punk to be found in Fugazi's music; for example, a review of The Argument compared a few songs to Radiohead. With Red Medicine, critics Ian McCaleb and Ira Robbins declared that Fugazi combined an "unprecedented dynamic range ... and previously unimagined elements" such as "clattering musique concrète ... piano and sound effects ... murky dub and lancing sax" and "loose–limbed jammy funk ... into an ambitious, experimental format that raises more stylistic questions than it answers."

Fugazi's career is chronicled in Our Band Could Be Your Life, a study of several important American underground rock groups. Mark Andersen and Mark Jenkins' book Dance of Days: Two Decades of Punk in the Nation's Capital also covers Fugazi –– and its contributing members' bands –– at length.

Fugazi are currently on what the band describes as a "hiatus," partly brought on by the recent forays into fatherhood by Canty and Lally, and may or may not reunite in the future. They recently released thirty unmixed live shows that are available for sale exclusively at www.fugaziliveseries.com. In the meantime, the members are undertaking side projects, with MacKaye forming the duo The Evens with Amy Farina (formerly of the Warmers), and Canty doing a variety of soundtrack scores and playing bass in the trio Garland Of Hours alongside frequent Fugazi guest contributors Jerry Busher and Amy Domingues. Canty also appears on Bob Mould's 2005 Album Body of Song, and has played bass live with Mary Timony. Lally has appeared on fellow DC post–punkers Decahedron's debut album Disconnection_Imminent, as well as on a project with John Frusciante of the Red Hot Chili Peppers known as Ataxia. Guy Picciotto currently works as a record producer most notably with Blonde Redhead, and he has performed alongside members of The Ex at the Jazz festival in Wels, Austria.