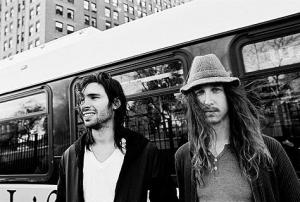 Russian Circles have been having a busy 2008. They released their second album, Station, and have been hitting the road quite a bit in support of it and will embark on a US tour with Daughters in June.
Our own Jason Gardner recently sat down with Russian Circles' Mike Sullivan to discuss what's been going on with the band.
For starters, could you tell me a little bit about how Russian Circles formed? At what point did you decide to be an instrumental band?
We started out in 2004. At that time Colin [DeKuiper] and I had been part of Dakota/Dakota, which was also instrumental, and Dave [Turncrantz] had just finished up with Riddle of Steel. We wanted to do something new from what we had been doing before. We weren't initially instrumental, but we weren't opposed to it. We all can't sing to save our lives either. There would be so much down time for a vocalist in our music, and in the end we were comfortable with instrumental music and not having a singer. It was not really a conscious decision. We also had a keyboardist initially, but there was a lot going on musically so we decided against that.
With your second full-length now released, how would you compare the recording and writing of this record, your first with Suicide Squeeze, to the process of Enter?
Not all that different. Just got together and wrote stuff for Enter. For Station, it was a slower writing process. We didn't play shows and just wrote for awhile. It was also different because [ex-Botch/These Arms Are Snakes bassist] Brian [Cook] played bass instead of Colin. We would demo stuff and send it to Brian and then we'd be back and forth via email. The three of us got together for a bit of rehearsing before we went in to record. Recording was different. Matt Bayles was a little more forceful and deliberate. He would worry about how accurate the take was and I worried about the music side of it. I learned a lot from recording with him as far as things I needed to work on. It was great to work with him and the sound of the record is great because of him.
How would you compare the accessibility and appeal of instrumental bands today to when Russian Circles first started out?
I think it's growing. Instrumental bands have been around for years and certain bands have helped out the genre. People talk about it getting bigger now, but there are bands from Chicago like Tortoise that have been around for years. There are definitely more kinds of instrumental bands now. People are more willing to accept more types of music. They are sick of the same angle-haircut, cookie cutter bullshit. Things are starting to change around.
Would you say that it is easier for someone who is seeing you in concert for the first time without having heard you before to get into your music since you don't have a lyrical aspect for draw them in?
With the heavier bands, like hardcore and metal, a lot of people are turned off by the vocals. Some people are drawn to that though. Old people don't want to hear that. If that element is not there, you have a little more accessibility, especially the heavier stuff. With the mellower stuff, you get the music, but there's no wussy vocalist on top of it. With being an instrumental band, we can convey different genre styles without the lyrics. Have you guys decided on who will fill in on bass for shows?
Brian will be around for awhile, and he wants to be a part of recording for the next album. I can't say for sure what will happen, but we love playing with him and he's a great addition to the writing process. He'll be busy too with his work in These Arms Are Snakes.
Tell me a little bit about your relationship with Suicide Squeeze Records - how has this differed from your time with Flameshovel Records?
We did a 7-inch with SSR in 2006. They weren't aggressive about getting us signed up. The label expressed interest in liking us and wanted to put out some of our music. We also have friends on that label like Chin Up Chin Up and Minus The Bear, and the people running the label, Dave and Bekah, are two of the nicest people I've ever met. They care about their artists and if we want to do something they are always all for it. it didn't seem like a huge step - it was a natural move. Flameshovel was great too - they were kind enough to help us out when other labels were trying to give us miserable deals. There were no contracts at the beginning, just kind of like a handshake deal.
Of all the touring you've done, what is one show or tour that stands out from the rest and why?
I hate to state the obvious, but the Tool shows in London were the coolest shows we've ever played -- at least for me. The crowd was very receptive and diverse, but I respect them. They were a great crowd. It was also terrifying because we expecting to be booed off the stage and have everything we could think of thrown at us. The venues were great too - venues made for playing music with nice balconies and vaulted ceilings. Definitely not like the big arenas here. Plus I'm a big Tool fan. It was a short set, I hate playing long sets. The only thing it lacked was the intimacy of a small show. We like when people are right there and we can feel the connection between us and the crowd. It wasn't quite there, but we realized there were plenty of people there to make up for that.
What do you guys have planned for the future?
In June, we start an almost full-US tour with Daughters and Widows. After that, we'll probably take some time and write for some of the summer. Though nothing is set in stone, we're also hoping to head back to Europe in the fall.