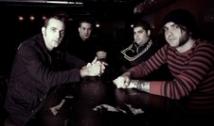 The Briggs, who we last heard on 2006's, Back to Higher Ground, are back and ready to release Come All You Madmen in June on Side One Dummy. They've played some big shows in the last couple of years and will be hitting the road on this year's Warped Tour. Guitarist Jason LaRocca recently took some time to talk to Punknews interviewer Michael Dauphin about what's they band has been up to, and what they're about to get up to.
Let's start with your new album, Come All You Madmen. I understand that a lot of these tunes were written on the road. How do you feel it affected the outcome of the album?
It was the best way for us to keep the music very inspired. Seeing Bad Religion or Dropkick Murphys live every night got a lot of creative juices going. Why wait until you are home and everything is quiet and calm? That's no way to write a record. C'mon!
You guys brought in some friends to lend their talents on a few tracks. Explain how this came about and what was it like working with them in the studio?
Well we were fortunate enough to be on tour recently with the aforementioned bands and built a friendship with them. That carried itself into our recording process. Bad Religion were back in LA and they were doing their HOB stint while we were recording the album. Brian [Baker] (Bad Religion, Minor Threat) was cool enough to come down before sound check one day and do some serious shredding.
It was amazing having Dickey [Barrett] (Mighty Mighty Bosstones) and Ken [Casey] (Dropkick Murphys) in the studio as well. Dickey is very laid back and is just "Dickey" the second he steps up to the mic.
Ken, having the production background that he does, is a perfectionist -- in a great way. He really wanted to make sure that there was enough going on to make the track cool and interesting on his part. Having guys like that on the record made it very special for me. It also kept things very inspiring for the band to make it the greatest possible record that we could.
In terms of sound, what did you hope to accomplish with this album that you may not have achieved in the past?