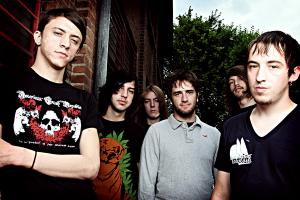 Fear Before The March Of Flames spent the better part of the last two years on the road in support of their third album The Always Open Mouth. Today the band finds themselves back in the studio recording its follow-up. Fear Before guitarist Adam Fisher took some time to talk to Punknews.org's Jason Gardiner about how the band is approaching the new recording.
What have you guys done to prepare for recording so far?
We've been home for the longest time. We just back into normal life and relaxing from tour. We all got jobs. First couple months, we didn't write that much. We wanted to be normal. Some of us went and saw our girlfriends and I went and saw my family. Last couple months we got into the thick of it. We have Pro Tools in our practice space, and we've been spending time jamming stuff out instead of me working on my computer and showing stuff to other people. It's been pretty cool.
You've already squashed one rumored album title. Do you actually have a title for the record or any of the songs you've been working on?
That's what I get for fabricating. I'm not sure if all of Dave's titles are final. "I'm Fine Today" is one for sure, and the title "Jabberwocky" for one song is starting to stick. "STD Face" is one of our temporary song titles. We only have a couple songs finished though, and since Dave is doing the lyrics for this record, for now we mostly just have some temporary titles.
How would you compare what fans are expecting from this new album to what the band is expecting from it?
I think everyone has stuck with us and followed the band knows we're going to put out a different album, but not sure if they have any idea of what that's going to be. I claimed this album was going to be more electronic, but that isn't necessarily true. When we sat down, that wasn't what everyone wanted to do. Even what I was expecting this album to sound like, it didn't come out that way. I hear something new every time I listen to what we've recorded because everyone is bringing something to the table. This is the first time we've ever recorded like this. I hope everyone will be surprised, and pleasantly so.
Do you feel like there is any pressure from said track record of doing something different every time you write an album?
We always claim we're going to make a different album. But at the same time, I still like the stuff we've been doing. I always wondered, "What if the songs start to sound like Mouth?", but they just naturally didn't sound like that. After we had a couple songs, we knew it wouldn't sound like Mouth. There was definitely pressure at first, but it's mostly just me pressuring myself. It sounds like us, but it doesn't sound like any of the albums before it. Maybe bits and pieces of everything.
Can you talk a little more about the writing process for this album and how it compares to the writing you've done before?
With the first two, when it was Brandon, Mike, Dave and myself, we'd get together write stuff, and I'd bring stuff to the table. The last album, it was me spending a lot of time alone, messing with stuff, playing with keyboards and showing them things asking what they liked. Some of the songs on Mouth we never even played together until after the record was released.
Having Goose for the first time on the record and Binks, since he wasn't completely a part of the last record, will make it a different experience. With Goose, he certainly doesn't drum like Brandon does, and Binks doesn't play like I play. This time, everyone wanted to put their part in and put in their 20 per cent. We let everyone have free reign. it's what everyone wants to bring to the table. it was about everyone bringing a different thing, and it's really cool and I'm glad that's how we did it.
You'll be working with Casey Bates again, correct?
Yeah, he has a new studio. He's a fun guy. One thing that made us want to work with Casey is he made it so comfortable. He's such an easy going, positive guy. Knowing this ahead of time, it's going to make for a pretty stress free environment. Plus he's a really good guy and I'm looking forward to hanging out with him. After being home for so long and touring for the last two years on mouth, we really wanted to make sure this would be fun.
Are you guys looking forward to getting back on the road?
Very, very, very much. I feel like we've been home forever. It's fun to be home and do the normal life thing, but I can't wait to start touring again. I get anxious being in one place for too long. We have a week-long tour on our way up to Seattle, and I can't wait to play these songs and do the band thing. I guess it's always kind of the cycle we've had. Once the album's done we just go for it hard. I don't like to start writing until a long while until after we've done the last album. We've always been about being on the road.
Favorite bands to tour with?
Heavy Heavy Low Low, we've done so many tours with that band, they are good friends of ours. Bear Vs Shark, Circa Survive, the whole group on that tour. We always get along with whoever we're on tour with and we always go out with the intention to make new friends. People think us and HHLL are like attached at the hip, since we did three or four tours in the states last year and one overseas.
Can you talk about the video you guys recently released for "My (Fucking) Deer Hunter"?
That video. [Laughs] I think that video made a lot of people feel really weird watching it. And weird about the band. Just wanted to do something different and something not like any video you'll see. Something unsettling and uncomfortable. Maybe some people don't get it, but it's kind of fun and weird. Watching the reaction to that. It was actually done awhile ago and we put it on the internet and didn't tag it to see what people would think before they knew it was a music video. A friend of ours, Lax Halaby, did it, and I think he did an amazing job. I loved it form the first time I saw it.
You guys have been a part of Equal Vision Records for quite some time now. How do you feel about your relationship with the label and releasing another album with them?
Honestly, we couldn't be happier with our label situation. It's progressed, but they've always treated us as family and as a priority. They are like family to us. The sad thing of not touring is that we haven't gone there to hang out. They care about music and care about fans.
Mike and I were talking about how EVR is getting ready to put out the new Damiera record. We're happy that EVR is putting out such an amazing record. It's cool that we're a part of this family that would put out such an amazing record. We love our label.
Anything else you'd like to add?
I'm excited to put out this new record, and I hope people dig it. I hope the people who like Mouth like this, and hopefully the people who didn't will find something about this. I think the plan is a Fall release. The album is currently untitled, it's not anything I might have said or joked about…and I'm sorry.