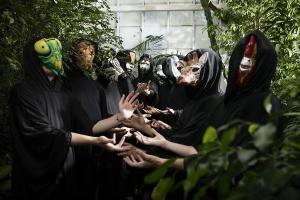 The Sound Of Animals Fighting have announced a title and release date for their Epitaph debut. The band, which includes members of Rx Bandits, Circa Survive and Finch, will be releasing The Ocean And The Sun on September 09, 2008.
The label had this to say about the record:

The Sound of Animals Fighting return with their visionary, highly conceptual third collaboration: The Ocean and the Sun. A tinkering, rewiring and experimentation with modern and traditional music forms, the endlessly inventive album tacks toward a ghostly, natural energy in both its organic production (this is the third piecemeal assembly from the Lynx, the Skunk, the Walrus, and the Nightingale) and its subject: the raw vastness of nature, the Sun, the ocean, and how we fail to recognize its power and mystery. Both a mash-up of decades of musical influences and a visceral, fine-tuned mosaic, The Ocean and the Sun further galvanizes the band's role in the creation and rethinking of what music will and should be.