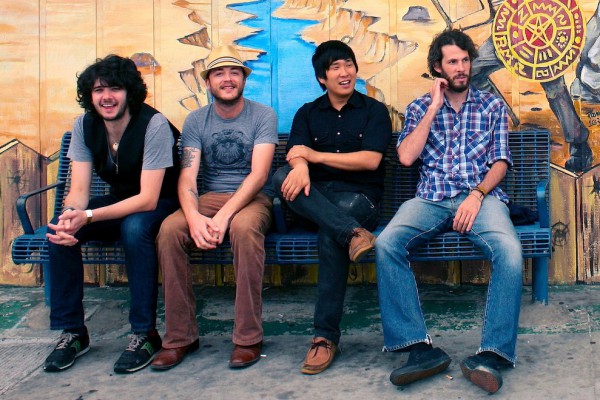 The band started out amid other popular southern California ska–influenced acts such as Reel Big Fish and No Doubt. Of the original line–up, only singer/songwriter Matt Embree and drummer Chris Tsagakis remain. Their first two releases were recorded with bassist James Salomone and trombonist Rich Balling. Upon signing to Drive–Thru Records, the band released the album Halfway Between Here and There, a straightforward third–wave ska effort, though lyrics in songs such as "Gun In Your Hand" hinted towards the political leanings which would be evident in their subsequent releases. They are notable for their strong political views, which they share with fans through periodic website posts [1]. They have toured with such bands as label mates New Found Glory and Finch, as well as with DESA, The Exit and Keziah Jones. They have also appeared on the Vans Warped Tour.

Their live shows are known for being highly energetic, with pre–rehearsed jams in between songs. They perform extended versions of many numbers; they fall somewhat short of being a full fledged "jam band," however it is fair to say that they exhibit musicianship live that is not captured by their recordings.

With 2001's Progress, the band took a huge step forward musically. The incarnation of the band which recorded the album consisted of Embree, Tsagaskis, Balling, Salomone, and current trombonist Chris Sheets. Steve Choi played keyboards on the album, but was not credited as a full member of the band, although he often joined the band on stage. With this album, the band moved beyond playing pure ska. Progress involved elements of punk, reggae, and hardcore punk. Indeed, the band itself notes influences ranging from Fugazi and Bad Brains, to Jimi Hendrix, Led Zeppelin, and Toots and the Maytals. The album spawned their only music video, for the song "Analog Boy". Some time after the release of Progress, Steve Choi was made a full time member of the band, however both Rich Balling and James Salomone left the band. They gained saxophonist Steve Borth, who had played formerly in the popular East Bay ska–punk band Link 80. Bassist Joe Troy, a longtime friend of Embree, joined the band as well to complete their current line–up.

In 2003, they released The Resignation, a CD/DVD release. The album was recorded live, with the exception of vocals and some overdubs. Embree also shared songwriting duties with Steve Choi, whereas he had previously been responsible for all of the band's material. Also of note is the album cover, which was originally a painting by Aaron Nagel, a Bay Area artist and member of both Link 80 and DESA. Musically, the album continued the genre mixing of Progress and experimented with unconventional time signatures. It again featured overtly political lyrics, evident most obviously in songs such as "Overcome (The Recapitulation)," and "Mastering the List". Since the release of The Resignation, several members have found time for side projects. Embree is involved with his own independent label, MDB Records, as well as the hip hop group Seekret Socyetee, Coke vs. Bills with Joe Troy, and Apotheke with members of the Rx Bandits. Steve Borth has started the band Satori which plays reggae/rocksteady and features members of The Exit as well as Embree on bass. Steve Choi collaborated with Asian Man Records founder Mike Park in both The Chinkees and The Bruce Lee Band.

As of October 2005, they finished recording on the follow–up to The Resignation.