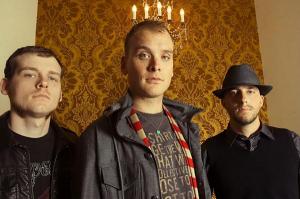 This Tuesday marked the release of the latest album from Alkaline Trio. Agony & Irony is the band's first for their new label, Epic Records, and also marks their first appearance on a major label. Punknews reviewer Michael Dauphin recently chatted with the band's bassist and co-vocalist Dan Adriano about the new album, the band's new skate shoe, and more.
You guys have been playing some shows recently with the Zumiez Couch Tour. How has the reception been for the new songs off of Agony and Irony?
So far, surprisingly, it's been really good. Don't take that the wrong way, but usually it takes a little while for people to warm up to it. But people have been really excited. The other night we played a couple more songs off of it and it's been going really well. I know the album leaked a couple weeks ago but that doesn't really have much to do with how people receive it live. It's been really fun for us.
This is your first album you guys have released on Epic, and your first album on a major label. I know you guys had experienced some bumps in the road after signing to V2 and then it kind of fell through. In light of all that, would you say there was some added pressure going into this album?
The only pressure comes from ourselves to make a better record than we did last time. We had a lot of time to write and we were really happy with the way the writing had been going. So, we felt really good going into the record and once we met Josh [Abraham] and knew we were going to work with him, we all felt more relaxed. We just wanted to go in and make the best record we could make and that's the pressure we put on ourselves.
I heard you mention that Agony and Irony may be the most organic record you guys have recorded since Maybe I'll Catch Fire. Can you expand on that a little bit?
Just in terms of how we approached the recording… I didn't want people to misinterpret what I was saying or what we were trying to do because the record definitely sounds slick and it sounds really big and that's what we wanted. But in terms of how we recorded it and got that affect, we wanted it to be more natural. We had about three dozen songs or so. Once we got in there, the hardest part was trying to figure out what we wanted to record and what would be on the record. Once we figured out what would be on the record, we set up the drums in about one day and we just started tracking and playing together as a band. So in that regard, it was way more organic. And we just tried to do everything without over thinking it.
Of the songs that ended up on the album, what song would you say was the most challenging tune to hammer down?
That's a good question, actually. There's a song on the album called "I've Found a Way," track number five. That was a song that we were all really excited about; from the moment Matt wrote it and sent the demo out.
I'd say that song is a bit of a departure from your previous output.
I agree -- in a sense that it is a little dance-y and has a little extra instrumentation stuff going on. So in that regard, we were excited about having this dance-y kind of feeling, but also in the spirit of trying to keep things moving along and keep a natural sounding record, that one took a little time to blend in with everything else. And I think it fits really well with the album and it's definitely an exciting tune. We were all really stoked with how it turned out.
You had mentioned working with Josh Abraham, who produced Agony and Irony. How did that relationship come about and what was it like working with a new producer?
Basically, we had met with a handful of different producers and discussed working with different producers with our management and our label. Then, it got to be kind of a frustrating process of going to meet with someone and then not actually knowing of what label we were going to be on. How most producers operate, they want to hear your songs and they listen to it and start telling you things that they would change, which is fine, you know, that's what producers do. Then we met Josh. We went to his studio and really liked his vibe. We really liked the fact that he owns his own studio and he was like, "I'm mellow. I work with a nice, mellow engineer. We just want to have fun and make a good record. This is my studio and we can work here until we make a record that we all love." And that's pretty much all we needed to hear. Once we left that meeting, we knew we were going to make the record with him.
Speaking of you guys working in the studio, I saw the clip of you guys on the MTV show, The Hills. What's the story behind that?
That was really fun for us, actually. There's a girl on the show named Audrina and she works for our label, Epic. I don't really watch the show but there's this other girl who is on the show sometimes and she also works for Epic, from what I understood. Anyway, they knew we were in the studio and they called and said they wanted to come by the studio and see what's up. They asked if they could bring the cameras as well and film stuff. We were like, "Yeah!"
For some reason, a lot of people kind of made a big deal out of that. I mean, for us, it was fun. We want our music to be exposed to a lot of people. The fact that this girl works for our label and wanted to come by regardless of whether they were going to film anything for the show, was a good sign. We were excited. It really wasn't a big deal. We were working and they came by for a few hours and hung out and filmed some stuff and then they split. That girl Audrina, her sister is a huge Alkaline Trio fan, which was nice to hear. She just had a baby that they named Sadie, after one of our songs, which is pretty cool.
You've been known to keep pretty busy with side projects recently (The Falcon, Ben Weasel, etc). Is it hard to find the time considering the time you spend with Alkaline Trio and do you have anything else lined up in the future?
Well, it's fun to do that stuff -- especially with other musicians that I respect. Doing the stuff with The Falcon was really easy for me because Brendan wrote all those songs and he and I are basically best friends. That was just a fun thing to do.
As far as my work with Ben Weasel, it was great. I'd never really met him but I grew up listening to his music. I'm pretty good friends with Mike and Chris from All-American Rejects, who played guitar and drums on that stuff. Mike produced it and when he called me and asked to play bass, I was flattered. As far as finding time, I did the Ben Weasel stuff from home at my practice space and it was all via electronic mail, which was an interesting way to do things. I think the record turned out great though.
Recently, Asian Man Records re-released Goddamnit. What was it like going back and spending time with that album after how far you have come over the last 10 years?
It was really fun. I still love that record. I feel like that was a really special time in my life and a special record to be a part of. When we made that album, I feel like we were doing something really different and cool. The way people received it, and reacted to it, made me feel like I was right -- like we really did make a great record.
I saw that Nike just put out an Alkaline Trio skateboarding shoe. How stoked were you when you found out about that?
I'm really excited about that. We actually just flew down to Orange County yesterday to play an in-store where they were releasing the shoe and messenger bag. Matt is good friends with a guy over there [Nike] who does marketing -- I guess they go surfing together a lot out in L.A. About a year ago he came up with the idea to do a shoe and we were flattered. We were just excited that they even thought of us. They gave us a good amount of artistic input and we came up with a pretty cool shoe. It's actually a really nice skate shoe… super comfortable and super lightweight.
What can Trio fans expect in the future and what are the odds of 2008 being the year for the Chicago Cubs?
Well, I can combine my answer: Trio fans can expect the Cubs to win the World Series in '08. We [Alkaline] are just going to continue to do what we've always done. We're just happy that people keep coming out to our shows and we love seeing everybody every night from the stage. We're going to do a lot of touring and, eventually, get back to writing for our next record. And I don't want to jinx anything but I think the Cubs have a good shot. We need to get C.C. Sabathia from Cleveland.