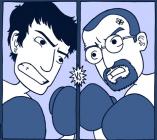 Jesse Michaels of Operation Ivy and Common Rider will be joining Jeff Ott of Fifteen and Crimpshrine for two shows in August.
The first will be at the Knitting Factory in Hollywood, CA on 8/15, and the second will be at the Riverside Jazz & Art Exchange in Riverside, CA on 8/16.
You can check out the flier here.