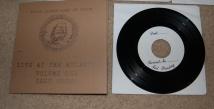 Congratulations! You're the lucky reader of the 4tth edition of the Punknews.org Vinyl File. This column aims to keep you informed of upcoming releases as well as spotlighting interesting releases, your favorite bands' own collections and labels with a history of vinyl releases worth talking about. As always, Vinyl File is brought to you by Ben Conoley.
This week, we've got a fairly light load news-wise, but we have two contest winners to announce as well as new one to get started. This week we want to give away a test pressing of Army of Ponch and Young Livers' contribution to the Live at the Atlantic series. The album, released on Sound Study Recordings, was printed on white (/200 only available at release show), dark royal blue (/31 exclusive to Vinyl Collective), aqua blue (/369), grey marble (/303) and black swirl (/97 exclusive to No Idea). However, we're giving away the most exclusive version around. Not only is it a test press, but it also comes in an exclusive screened cover.
load of stuff in store for you. First of all, we've got a winner of last week's Off with Their Heads contest. We also have two brand new contests lined up for this week, in which one winner will be receiving a test pressing of the new LP from Landmines and another will get one from The Methadones, who we also interviewed for this week. Madness.
To win your copy of the Army of Ponch/Young Livers split 7", send your name and address to ben (at) punknews (dot) org with "Live at the Atlantic" in the subject field. We'll announce a winner in next week's Vinyl File.
As for the contests we were running last week, we would like to congratulate Laurent G. of San Francisco for winning a test-pressing from The Methadones, courtesy of Underground Communique. Furthermore, we'd also like to congratulate Brett Shumaker of Savannah, GA, who will be receiving a test-pressing of Landmines' new LP. He has Paper and Plastick to thank.
THE PUNKNEWS.ORG VINYL FILE Me First and the Gimme Gimmes' latest, Have Another Ball has finally been set for pre-order over at Fat Wreck Chords. If you act fast there just might be some colored vinyl remaining.
Gilead Media has announced the breakdown for some of their newest releases. Their split between Mouth of the Architect and Kenoma is on black (/250), light purple (/429) and light blue (/300). Meanwhile, Rocky Votolato's A Brief History is being pressed on opaque yellow (/504) and opaque light purple (/368). You can place orders at Gilead's website.
If you missed the first run of The Cute Lepers' new album Can't Stand Modern Music, you've got a chance to own it for less than Ebay prices as 1-2-3-4 Go! Records has pressed it once more. This time around they have 200 on various colors and another 200 on pink available only at Interpunk. The repress features new artwork on the back of the album as well as a new insert.
Guns N' Roses' classic debut Appetite for Destruction is set to be re-released on vinyl through Universal Music. The album, which is scheduled for a September 9 release date features the original artwork by Robert Williams.
MXPX have a new 7" picture disc out. The record features the songs "Keep a Beat" and "Coffee" and is limited to 1,000 copies. You can order it here.
Dirt Cult Records has a new split 7" out featuring The Jonesin' and Shang-a-Lang with the former coming with an original and the later covering Lou Reed. Dead Broke Records is co-releasing the album. They also have a 7" on the way from Unwelcome Guests and Painter.
Temporary Residence has some rad releases in the works. They will be releasing Maserati's Inventions Remixes (limited to 1,000 copies) on September 9, along with the latest from Young Widows, Old Wounds, which we mentioned last week.