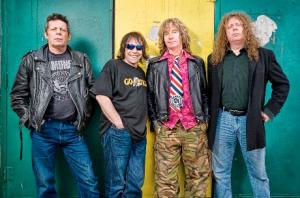 Frank Kerr, better known to fans as Frankie Venom, the lead singer of veteran Hamilton, Ontario punk band Teenage Head, has passed away. Kerr died of cancer on October 15th, he was 51. Guitarist Gord Lewis made the announcement earlier today through the band's label Sonic Unyon. Kerr helped form the band in 1975 when its members were still in high school, making them one of the earliest punk bands in Canada and winning them the title of "Canada's Ramones." The group released their self-titled debut in 1979, breaking through with the album Frantic City in 1980.
Teenage Head most recently teamed up with Ramones drummer Marky Ramone to record an album of the band's classics. It was released this past April. Earlier today it was announced that the band would be the recipients of a lifetime achievement award at next month's Hamilton Music Awards.
Our deepest condolences go out to Frankie's family, friends and fans.