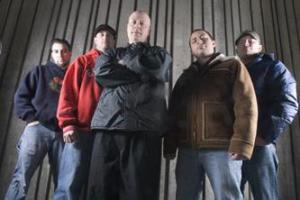 Earth Crisis has completed recording for their Century Media debut. The group is self producing the record and produced Tue Madsen (Dark Tranquillity, The Haunted) will handle mixing and mastering duties.

We just wrapped up tonight and we are very excited for everyone to hear what we've come up with. We've been holed up at Castle Recording Studios in Utica NY for the last 21 days slaving away, and I know this sounds cliche, but it truly could be the best Earth Crisis release to date! No really, I know every band says that when they finish something new, but…….REALLY! Now we have 3 nail biting weeks to wait until mixing begins.
The band served as the mouthpiece of America's militant vegan, straight-edge movement throughout the '90s, detailing the ideas of animal and human liberation, drug-free living, and personal empowerment through hardcore song. This movement spawned activists who took the law into their own hands, burning down fur farms and freeing animals directly.
In a recent interview, the band promised that the new full length would be a mixture of their acclaimed full length, Destroy the Machines and major label debut, Breed the Killers.