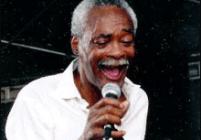 Long-running soul artist Nathaniel Mayer has died at the age of 64. He suffered from a series of strokes over the period of a few days.
Mayer had been an active member of the Detroit soul music scene of the early 1960's with the Fortune label, but returned to music after a long absence to record I Just Want to Be Held in 2002 for Epitaph imprint Fat Possum records and Why Don't You Give It To Me? in 2007 through Alive. In his last album, he collaborated with members of The Black Keys and The Dirtbombs.
His songs have been covered by The Detroit Cobras as well as many other garage rock and blues revival punk bands.
Our deepest condolences to his friends and family.