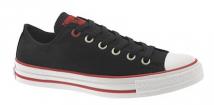 Converse continues its string of artist signature shoes with the latest model from Billie Joe Armstrong of Green Day, Pinhead Gunpowder and Foxboro Hot Tubs fame. The shoe is a charity project set to benefit the Project (RED) charity initiative with 10% of proceeds set to go to the The Global Fund to Fight AIDS, Tuberculosis and Malaria
The shoes follow models like the Kurt Cobain signature shoe and the Ramones shoe.
The shoe costs $69.99 and can be found here.