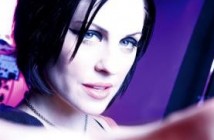 Spinnerette, the project from remnants of the Distillers - frontwoman Brody Dalle and guitarist Tony Bevilacqua - have released a new video for their debut EP. The digital EP, Ghetto Love, is due out today and is available directly from the band.
Check out "Ghetto Love" right here.
The Distillers last released Coral Fang in 2003 and fell apart in the years following.