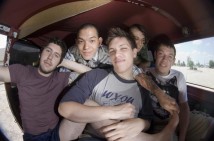 Detroit's Fireworks may not be releasing their new album until the end of March, but that's no reason not to listen to 2006's We Are Everywhere and get stoked on the promise this pop punk band is showing.
Punknews interviewer Sarah El-Hamzawi spoke with Fireworks' Kyle O'Neil about their upcoming album and much more.
Being from Michigan, you guys are pretty close to Canada and get to play here a lot. Are there any notable differences between your Canadian and your American shows?
There aren't many differences between playing Detroit and Toronto, but when we played in Montreal we noticed a difference. Kids seemed to not really be watching you, and appeared a little bored. It's funny because afterwards they would come up to us and say "Awesome set," but compared to playing Toronto and Detroit where people are far more energetic, it was just really different response.
You actually played Toronto fairly recently during a pretty bad snow storm. How did that go?
Toronto is one of our favourite places to play, and we always seem to play The Kathedral or The Reverb which are a lot of fun. Our last show there went over pretty good considering it was a Monday night and the weather was pretty bad. I can't complain.
Recently you got a chance to tour with Living With Lions. How did that go? Any memorable moments?
It went great. It was too short though, because we only got to hang out with them for a week. Those guys are pretty crazy, and they definitely like their beer. It was a lot of fun, and we are hoping to do more dates with them early next year.
You're usually touring with hardcore bands, but crowds are still receptive to your sound which is a lot more poppy. What do you think it is that draws hardcore kids to also appreciate pop punk?
I'm not too sure, but I mean you can really hear the hardcore influences in our music because we do come from a hardcore and punk background. Maybe people can pick up on that influence. It also depends on if we are playing with a hardcore band with more of a punk rock sound, as opposed to playing with some heavy mosh band. We are definitely better suited for bills with the faster bands, instead of the heavier bands. Other than that, I guess we are just lucky that the punk rock kids can like us, the pop punk kids can like us, and the hardcore kids can like us as well. It all works out.
Is there any story to naming your band name Fireworks? Any chance it's a reference to American Nightmare?
To be honest, that band did have something to do with our name because we are huge American Nightmare fans. It was kind of a joke around the fourth of July when we were lighting off fireworks while hanging out and trying to come up with a name. Originally we were going to go with the name Bears, but then we thought we wanted different name. Anyways, we were all hanging out and saying any name that came to mind. At some point someone said "How about Fuck What Fireworks Stand For?" and then from that we all agreed that Fireworks sounded kind of cool. We brainstormed some more after, but we still felt Fireworks was the best. That's how I remember it at least.
What was the writing process like for We Are Everywhere? Where did you guys record it?
We recorded it at Nada Studios in New Windsor, New York. We had two songs off our demo and those were already written besides being tweaked a little bit. Basically, Dave would come up with a basic idea for a song and bring it to practice, and then we would all put our own input and create something together. Sometimes we started off with something acoustic, and other times we would start writing with the whole band. When it came to the lyrics, we would all hang out and listen to our instrumental demo playing on the stereo. We went back and forth coming up with ideas, and we found that one line would usually spark another. It was very much a group effort.
What kinds of things inspire your lyrics? Are they based on solely personal experiences?
The lyrics are very personal. All the lyrics on We Are Everywhere as well as our upcoming full length are all things which we can all relate to, instead of just coming from on person's perspective. Some songs touch on issues that might not be something we all go through all the time, but all our songs are about something at least one of us has gone through or have seen our friends go through.
I read that you guys worked with Chad from New Found Glory on your new album. What was he like to work with?
Yeah, we were in California for about two and a half weeks recording and Chad was the producer on board. He is such a great dude and he brought so many good ideas to the table. He's definitely not overbearing in a sense that it is not his way or the highway. He came up with ideas and if we liked it we would go with it, and if we didn't like it he would never get upset. Besides the producing we also got a chance to have a lot of fun just hanging out with him.
Did it ever feel weird to work with someone whose band you probably listened to growing up?
At times it was. I kind of wish I could have gone back to my sixteen-year-old self and know what I would eventually be doing. After the initial shock of working with him, it became really natural, and we saw him just as a normal dude. We have also been introduced to him before, and crossed paths with him so many times that it wasn't ever awkward or a big deal to get to know him. He just showed up at the rehearsal space and we got straight to work and started playing. I definitely have a lot of good things to say about him.
As for the sound of your upcoming album, what can people expect from it?
I think people can expect it to still sound like Fireworks except more mature and developed than before. Lyrically we have definitely grown as people, and the songs are definitely different. I would say it is more structured, but still aggressive and real. It's probably the best thing that I have ever done and I am really stoked for it. Everyone who has heard it has liked it so far, so I guess we will have to wait and see what everyone else will think.
I assume that with all the touring across North America recently you get a chance to listen to your ipods a lot. Are there any bands have you been into lately?
I've been listening to a band called Banner Pilot a lot, as well as a lot of punk rock like Lawrence Arms, Green Day, and Bad Religion. We all listen to such a wide array of music. A lot of hardcore, a lot of punk rock, pop punk, as well as just some straight up pop. I have been listening to a lot of Mariah Carey too.
If you could have anything for Christmas this year what would it be?
Umm…..wow, I could say a lot of things but I'm trying to think of something that the whole band would want. I guess we could use some new gear, a new van, or a new trailer…but in the end we make due. Maybe our label will read this though…
What can fans expect from Fireworks in the future?
Tons of touring, and a great album to come out in March. We don't have a day yet, but it will be out in mid-March. Hopefully we will just get this record out, and people will be seeing a lot of us. I would like to say to expect big things, but I guess that's kind of typical. We are really hoping to do a lot of cool things in the future though.