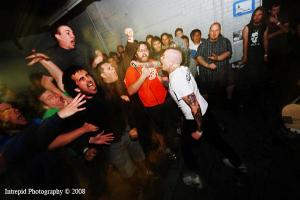 Our first series of Dispatches comes to a close today as Tyler Densley from Lewd Acts checks in once again, this time from North Carolina. The band is continuing to tour in support of their recent Split with Hour of the Wolf as well as their upcoming full-length, to be released on Death Wish Inc.
Wednesday
1-21-09
1:30 PM
Today is the warmest I've been in weeks. The windshield is despicably dirty and the streaks intensify the sunlight. I wish I had prescription sunglasses. Instead, I pop out the lenses of stolen drug store sunglasses and loosely fix them to the insides of my regular glasses.
Last night, we did many terrible things. Somehow word got out that I tattoo, which lead to such idiotic statements like, "You need to give me a dagger, because I've been stabbed in the back." Trying to be somewhat responsible at the moment, I refrained from doing tattoos. Jake, however, took it upon himself to some stick and poke tattoos with a sewing needle, broken pen, and india ink. They were his first attempts at life ruining. Of course, tattooing is a long process and by the time Jake was working on his second masterpiece (An X and an O on some little gal's wrist.), my sense of responsibility had been thwarted by Jim Bean. I leaned over the gal, saw the blood and ink soaked atrocity, then dangled a strand of spit over it. Jake seeing this, pushed me away and my saliva landed on the table. I aimed again, conjured up what liquid I had in my mouth, yet was pushed away again. Third time's a charm, though, I finally successfully spat upon the open wound. The gal, being quite inebriated, took a moment to inspect the spit. When she realized what had happened, she looked to her left, leaped over a table and punched some guy in the face, thinking it was him that had soiled her new, awful tattoo. I let the guy take the blame, and walked back downstairs.
Thursday
1-22-09
2:34 PM
Last nights show was the most violent on this tour. I'm pointing most of the blame on the fact the show got started later than we're used to. With the time between us arriving in Richmond and actually playing, we drank. Seven of us sat in the van, each with our respective 40s. Jason and Yeti made a new friend while going to 7-11 who gave them a mysterious white substance wrapped in a small piece of cellophane. The stranger handed them the make-shift bag after they purchased him two hot dogs in exchange for guiding them to the market.
Before playing, Jason puked in the sink of the women's bathroom. Sven drank some coffee. Allen and Karl X'ed up their hands. Jake socialized. Cory and Yeti ate sushi. I ordered another drink.
After Playing, we were making sure everyone who was bleeding or bruised (myself included) got a drink or a T-shirt and enjoyed their time.
Friday
1-23-09
11:07 AM
After playing soccer at a gas station (One fella asked, "You guys a soccer team?" We told him we were. We were dressed in jeans and jackets, shoes falling apart and playing with a deflated ball most likely stolen from a kindergartner. To my knowledge, all traveling soccer players ride in a banged up grey van with no leg room.), we made our way to heaven, AKA Greensboro, North Carolina. We were fed like kings, pampered with friendly conversation, and accompanied by majestic and adorable animals.
The Southern hospitality did not end there. We stayed at another house full of curiously attractive animals. We played fooseball and Nintendo until retiring, only to wake up to another feast.
And here I sit. Clean. Full. Happy. A basset hound named after my favorite fictitious author (Kilgore Trout) sitting by my side, slobbering on the computer.
Thank you.