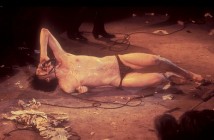 Lux Interior, frontman of influential rockabilly / punk act the The Cramps, passed away today in a Glendale, California hospital. In a statement an existing heart condition was cited as the cause of death.
Lux was born Eric Lee Purkhiser in 1946. He formed the Cramps in the late 70s with his wife Kristy "Poison Ivy" Wallace and became part of the formative New York punk scene emerging around clubs like CBGBs and Max's Kansas City. The band's integration of rockabilly and surf influences, along with the b-movie film imagery, built the foundation of the subgenre we now call psychobilly. Lux built a reputation as a fearless and dramatic frontman, performing with a reckless abandon that's become part of the band's legacy.
Our deepest condolences go out to Lux's friends, family and fans.