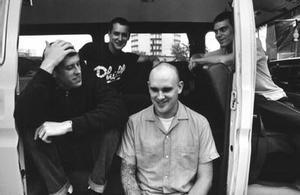 A release date and final details have been announced for the tribute to Kid Dynamite assembled by Get Outta Town Records and Black Numbers Records. Set for release on July 7, 2009 on CD and July 14, 2009 on vinyl, the tribute is titled Carry the Torch: A Tribute to Kid Dynamite and will include 39 tracks.
The final product boasts introspectives written by Kid Dynamite guitarist Dan Yemin and drummer Dave Wagenschutz, as well as guest vocals by Yemin on "Three's A Party" with No Harm Done.
No Trigger's cover of "k05-0564," Sakes Alive!!!'s "News at 11" and This Time Next Year's "3 O'Clock" are all streaming on the tribute's myspace page.
Antillectual - "Wrist Rocket"
Smartbomb - "Heart A Tact"
Ernie Parada - "Bench Warmer"
Call It Fire - "32FPS"
Fallen From The Sky - "Pits and Poison Apples"
12 Cent - "Pacifier"
Broadway Calls - "Bookworm"
All Teeth - "Never Met The Gooch"
Deny Everything - "Zuku's Back in Town"
No Secrets Between Sailors - "Living Daylights"
Lewd Acts - "Ph. Decontrol"
Comadre - "Death And Taxes"
No Harm Done - "Three's A Party *Featuring Dan Yemin of Kid Dynamite and"
Danielle Allen of Offsides"
First To Leave - "SOS"
The Golden Age - "Got A Minute?"
Death Is Not Glamorous - "Pause"
Make Do and Mend - "Ronald Miller Story"
Endgame - "Copout"
Get Back Up - "Sweet Shop Syndicate"
Static Radio NJ - "Give 'em the Ripped One"
To The Lions - "Rid Of The Losers, Bring On The Cruisers"
Stay Warm - "Showoff"
Hollywood - "Gate 68"
Take My Chances - "Handy With The Tongue Sword"
Hour of the Wolf - "Breakin's A Memory"
The Geeks - "Shiner"
No Trigger - "k05-0564"
Jump The Shark - "Scary Smurf"
Sakes Alive - "News at 11"
Latin For Truth - "Table 19"
The Ergs! - "Fuckuturn"
Soldiers - "Introduction to the Opposites"
Kill Conrad - "Rufus Wants A Hug"
Spanish Gamble - "The Unheard Chorus"
Torchbearer - "The Penske File"
The Wonder Years - "Cheap Shots, Youth Anthems"
This is Hell - "Troy's Bucket"
Troublemaker - "Two For Flinching"
This Time Next Year - "3 O'clock"