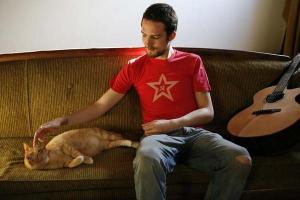 Frank Turner, solo artist formerly of Million Dead, has signed to Epitaph Records who will release Love, Ire and Song and other future releases outside the UK. Frank explained:
Anyone with even a passing knowledge of punk rock will have some inkling of how fucking awesome this is. For many years (and this is pre-myspace) the Epitaph logo was a badge of quality that meant I would buy the record, regardless of what it was. In so doing I got into almost all my favourite punk bands. They're still one of the best labels in the world, and they're independent to boot. It's also really important to me that they've accommodated me staying with Xtra Mile in the UK - those guys are my family, and there's no way I was going to jump ship.
Frank has a touring planned and will be supporting The Offspring as well as headlining a UK run with Fake Problems.