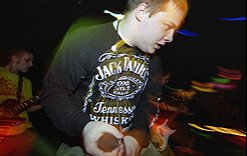 Blacklisted announced at a recent show that they'll begin recording their new full-length next week.
The only additional information given by frontman George Hirsch was that there will not be pre-orders.
The band was playing with Paint It Black, Crude and Unit 21 at The Studio at Webster Hall in New York City, a rare live appearance that followed a several-months period of inactivity and quietness. Hirsch explained, "Life takes its toll on you, sometimes."
The album is expected later this year on Deathwish, following up last year's Org favorite Heavier Than Heaven, Lonelier Than God.