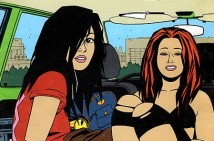 Blaqk Audio, the side project from AFI members Davey Havok and Jade Puget, recently recorded a cover of the Love and Rockets track, "No New Tales to Tell."
The song will appear on the forthcoming tribute, New Tales To Tell, along with covers by Black Francis (Pixies), The Flaming Lips, A Place To Bury Strangers and others. The tribute is due out July 28, 2009.
You can check out a 30 second clip of the Blaqk Audio cover here.