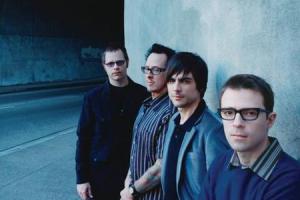 Weezer recently debuted three new songs at the Jisan Valley Rock Festival in South Korea, presumably from the band's nearly completed seventh album. The songs are titled "I'm Your Daddy", "The Girl Got Hot" and "Can't Stop Partying" and videos of the songs have surfaced.
In a post on their website, the band remarked that the fans at the festival "sang along with every song, even the three brand new ones" and then added, "Granted, these songs are almost designed to sing along to, but it was pretty impressive that the crowd picked up on them so fast, especially with the language barrier."
The band also seems to be pleased with their new five-piece lineup featuring Josh Freese on drums, adding:

"The five piece configuration is working out very well so far, with Josh Feese handling many of the drum duties, freeing up Pat (Wilson) to jump in on guitar and vocals, which frees up Rivers to do his thang, which he is doing quite well."
Weezer continues to support 2008's The Red Album, and is currently on tour with Blink 182 and Fall Out Boy.