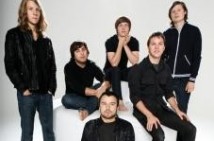 Say Anything have set a release date for their forthcoming self-titled album.
Max Bemis, the outspoken vocalist/songwriter of the band commented:

The running theme of the record is finding the mental superhero within yourself despite having seen some dark times. After all of the stuff you've heard me sing and write about that overtook me for the better part of a decade, I finally found a way to fight back, and this is the story of how.

Though it's hard to describe the quote-un-quote sound, i can try; [It] is akin to Botch forcing themselves on the Beatles. and fathering a strange Larry David-esque midget, who is abandoned due to his freakish nature and adopted by Billy Joe Armstrong. This record is quite a bit more fun than our last record, but still expectedly evil.
The record is due out October 13, 2009 and follows 2007's In Defense of the Genre.