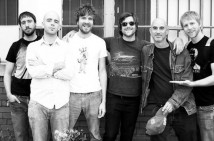 Circa Survive has signed to Atlantic Records. The band posted an update explaining the change from longtime home, Equal Vision Records:

After almost a year of writing, we have begun working on our third record in Toronto, ON. David Bottrill, who has made amazing albums with bands like Tool, King Crimson, Silverchair and Moneen, is producing.

After completing our contract with Equal Vision we embarked on a long search to find our next home. We met with lots of labels and decided that Atlantic Records is the best place for us to continue our growth as a band and to help us release our music around the world. Because this is a big step we feel the need to reassure you that we are and always will be the same band no matter what label we are on.
The band released On Letting Go in 2007.