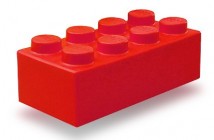 Bouncing Souls have posted a new video from their track, "Airport Security." Yes, the band already made a video for the song, but this version was assembled by a family of fans and made entirely of animated LEGO bricks by Brian, Theresa, Brian and Andrew Westervelt.
The creators explained:

When we saw the "Airport Security" video, with the cardboard sets and props, it just seemed natural to turn it into a Lego animation. Theresa constructed all the sets and props while Andrew and Brian, ages 12 and 13, did the bulk of the animating and Brian Sr. was the director/dictator and editor.

The whole project took two months and more hours than we are willing to admit to. We had all hoped that the Souls would see it but we never expected any feedback. Imagine our surprise when Kate contacted us and wanted to put it on the Souls web site!

We go to as many Souls shows as we can, which is about every 3 or 4 months. Their music truly speaks to us and we hope this video can express our gratitude.
Check it out here.