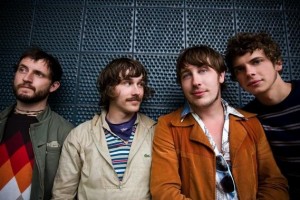 Portland based rock act Portugal. The Man recently released their fourth full length album, The Satanic Satanist on Equal Vision Records. The band is currently on a club and festival tour in support of the album and recently wrapped up stints at the Bonaroo Festival in Manchester, TN and Lollapalooza in Chicago, IL. Punknews contributor Matt Pagirsky caught up with lead singer/guitarist John Gourley and bassist Zachary Carothers at the tour kick off show on August 4th at Union Pool in Brooklyn. They discussed the new album, their thoughts on how to prevent early leaks, how art and money are intertwined, as well as plans for another new album and a live DVD set for tentative release this coming winter.
This is Matt from Punknews here with two members of Portugal. The Man. Can you introduce yourselves?
Zachary Carothers: I'm Zach. I play the bass.
John Gourley: I'm John. I play guitar and sing.
Your new album, The Satanic Satanist is your fourth studio album in four years with a bunch of EPs mixed in between. What drives you guys to release so much material while most bands wait two-three years between album cycles?
Carothers: John is a songwriting machine- he just never quits. We're pretty lucky to have that. Like you said, a lot of bands like to wait a ridiculously long time to put out records and we don't' think it's that much, but obviously it's helpful just to have him, he's constantly coming up with ideas, and we get to go into the studio a lot. We use our time off well.
Gourley: It's not really a ton of music we're doing. A year is such a long time, when you think about how much has happened in a year of your life and the fact that most people are working 8 hours a day, every day. I don't feel like it waters down what we're doing. The songs just come as they come.
Isn't it expensive though to keep heading into the studio to constantly record new material?
Gourley: Yes, it is. I wrote a blog recently about downloading and everything, about what musicians and artists do, writers included. Every side of art needs to have funding in some way to continue, there wouldn't be beautiful architecture in cities if the city didn't take money from its citizens. It's something that definitely needs funding. We save year round to go into the studio. It's something we've chosen to do and to go without real label backing and save up our own money.
The new album has a more classic rock, more psychedelic, bluesy guitar feel. Were there any records you were listening to at the time that influenced this recording process?
Carothers: At the time we were listening to The Knife, some David Bowie. Adam Taylor, one of the producers on the record, when him and John were first talking about pre-production, he would send us play-lists of all these crazy 60s weirdo funk and psychedelic bands - Black Nasty in particular. That was our favorite. We were listening to a lot of stuff, but most of the time we were just listening to our own demos.
The new album has a great fold out CD case and really beautiful cover art. How'd you guys come up with the concept for that design? Was there any specific emotion or feeling you were trying to convey?
Carothers: Well John came up with the whole thing. He didn't explain it quite well; when he first explained it we were like "what… how?" We were like "yeah, sure John good idea", but as he started doing mockups and our buddy Austin Sellers who helped do all our layout, they went back and forth and it came together.
Gourley: It actually came out exactly the way it was planned actually, which is amazing, because it never works out that way. I remember handing it to Austin and he goes "you're going to make me do all this work and it's probably not even going to be allowed to work". Everybody was saying there's no way we could do this. But we were able to cut corners where we could, we took out the plastic, it saved some money.
What was Equal Vision's stance on the artwork and concept?
Gourley: They were really cool with it, and really helpful.
It seems like you guys have a great relationship with the label and you fit well on their roster.
Carothers: Yeah they've been great friends of ours for a long time, and have been doing random things for us even when we had no professional ties. They're always talking good things about us.
Gourley: Yeah, they're really part of the reason we started putting out records. In the beginning when we got our contract with Fearless, they just helped us out in getting on our feet and getting things working properly. We had a somewhat strained relationship with Fearless because of Anatomy of a Ghost, nothing against Bob Becker or anybody at Fearless; it was just strained because we bailed on a contract. It worked out in the best way though. Bob was so cool to us and Fearless was great, they let us do whatever we wanted. I have a lot of respect for Bob when it comes to that stuff. He's just very much about the music. Equal Vision is the same way. If you want to run with it, they'll let you do it. I think the problem with most bands on labels is that most bands really don't want to run with it. I was talking to my buddy Austin the other day, and he was saying, as a designer, illustrator, so many people come up to you outside of art and say "this is what I want". A lot of bands are like that and they'll have a general idea, but they don't really know. In the end they really don't care, they just let the label handle shit. We're just a self-sufficient band.
Just switching gears for a second, you posted a blog a few weeks ago saying "well you can download our record, but please buy it and support us as a band" because there's a lot of hardships a growing band has to face. Do you guys have any ideas or ways you think that labels could prevent early leaks?
Gourley: It's something that, they [labels] kind have made their bed and now they've got to lie in it. They've signed so bands and pushed so much bullshit to the top of the charts, there's really nothing they can do. Radio is to blame, the magazines are to blame, everybody is to blame for hyping shit that shouldn't be hyped and letting it happen. They have to be conscious of what's happening around them, they have to promote the music they really love. The way to prevent leaks is just to be confident in the band that you love. Be confident in the music that's coming. You don't have to hear the new Radiohead record to do press on it, six months in advance. Just let them put out a review and let it happen. Just let the music happen. You don't need that lead-time. If you do, have some respect at least. My personal opinion is things need to go to vinyl. A format that isn't so accessible to so many people. Make it to something that if you want it, you have to be apart of it. You have to support it.
Do you think there's a general lack of respect with new releases nowadays? It seems when it comes to downloading records, a lot of people don't seem to realize how much goes into making a record, going on tour, going through all the shit a normal band has to go through.
Gourley: It seems for some people there's just a general misunderstanding of what art is. I mean how many kids do you know that say "art shouldn't cost money, you shouldn't have to pay for art, it's not art if you're paying money for it" and that's not the case. It only leaves the art world when the money compromises it. I just recently started listening to Radiohead and groups like them and the Beastie Boys, and The Flaming Lips; that money does not compromise them. We get to see them go crazy at shows with 50,000 people and that's amazing. And we helped make that happen because we support bands like that. People just don't have a general understanding of it. Like if I worked into your job, put on a shirt and walked out of the store, and said "it's cool dude, I just don't have the money right now so I'm going to try it on and borrow it", like that would not be okay. Your boss is going to be pissed, that shirt cost money. There's just not an understanding of how this business works. I don't even know where it comes from. People at working class understand it. My friends understand it, they go out and buy records and give them to friends.
You recently played Bonnaroo, how was your experience there? Did you get to see or meet any new bands that you enjoyed?
Carothers: The overall experience was probably one of the best we've ever had. It was the most perfect night ever, so relaxed and awesome. It was the biggest crowd we've ever played for. Smiles didn't leave our faces for weeks after that. We actually didn't see many shows; we were pretty busy that whole time, a lot of rain and mud kept us from doing stuff. I took the sampler route and just skipped around for sets and caught a song or two here or there. The crew at Bonnaroo was awesome; they were so funny, walking around barefoot.
You guys have been pretty much touring non-stop since the band's inception. Is there a favorite show or tour you've done so far?
Gourley: Playing Portugal was amazing. It was kind of a scary show, it was our first time there and we didn't have a sound guy with us, but we played with Peaches that night and she was awesome. You have to see her, she's the filthiest female rapper ever, and she's just insane and really funny. She came out in this crazy outfit; you just have to see it.
Fan submitted question: would you ever consider doing an Anatomy of a Ghost one-off reunion show?
Gourley: Oh, no way. It just wouldn't happen. The thing with that band anyway was that it was so built on compromise. It was five different people with five different ideas and it came together the most perfect way at the most perfect time and it worked, but it didn't fit for all of us. It was just one of those things that didn't work out in the end. We still hang out together, like every single member of Anatomy of a Ghost has toured in Portugal The Man, like they've all played and toured with us. It's just something that I don't think anybody wanted. That band toured by itself, everything we did was DIY, and that band was so punk rock when it came down to it. I don't think most people realize that side of the band. I think bringing it back together would be forced.
Carothers: We did kind of a reunion show, but John wasn't there. We were at a party and we were at a friend's house and everybody was like "Anatomy of a Ghost reunion, c'mon guys", and so we did it and it was just awful. It was pretty bad.
Fan submitted question: what's the meaning behind the lyrics to the song "It's Complicated Being a Wizard?"
Gourley: Oh man, that song. That whole song was just about money, not about making money. That was recorded and was one of the most favorite things I've ever done. I went into the studio right after Waiter: You Vultures was completed, and I went down into Casey Bates place, and started recording and I got to 4 minutes, then 7 minutes, and then Casey came down and was like what the fuck are you doing? And then I decided I'm going to make a 23-minute song. I was just sitting down there and kept going with it, and finished it. No plan to it or anything, and it ended up finishing at exactly 23 minutes. Tempo changes and everything, you couldn't plan it better. It was crazy math. It perfectly worked out. I didn't even show the manager for like 6 months after it was done. I was so pumped about it. I just didn't want to show it because what are you going to do with a 23 minute song?
What are some upcoming plans following this tour? Anything you can talk about now?
Gourley: We have new music recorded, plans to tour, and then plans to record again. We have a live record coming out, a live DVD actually, coming out this winter and possibly another record. We have ten songs recorded right now. That may come out this winter or next spring. And then we'll probably record in January again.